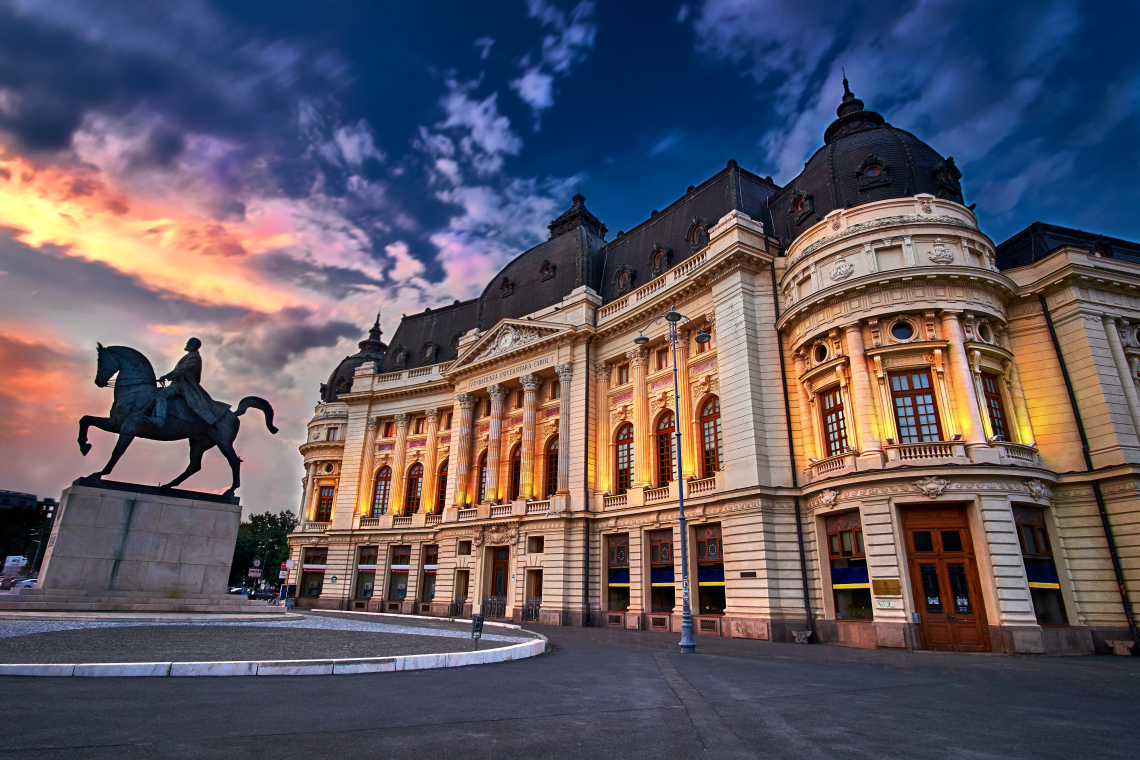 Do you know that in 2021 in the US alone 56 percent of people plan on moving to a different location? Many have decided to relocate in search of smaller communities and more space, especially in times of COVID-19.
If you are even more adventurous and permanently working remotely or just looking for a new place to call home, then consider relocating to Bucharest. 
Bucharest is one of the most underrated cities in Europe, providing fantastic weather and a fun lifestyle. You'll find diversity in every sense, from prefabricated communist blocks to art nouveau villas in a bustling city surrounded by luscious forests. As an up-and-coming tech hub, there's a large community of expats living in Bucharest and many opportunities for success in start-ups.
At the time of the writing of this article, the city is in a state of alert due to the pandemic. If you decide to relocate there, you can get additional information about restrictions here. 
---
Quick Facts
Romania has a diverse population of 20 million people, although most are Romanian, you will find many other ethnic groups with large Jewish communities, Turkish, Chinese and Germans. 
Bucharest, the capital, has a population of 2.2 million, which makes it the 6th largest city in the EU. Romanian is the primary language spoken, but most people, especially those in the more touristy areas and the younger generation, can speak fluent English. The Romanian Leu is the local currency, with 4.80 lei equivalent to 1 Euro.
---
Quality of Life
When living in Bucharest you will experience every season thoroughly, with blazing hot summers and cold winters. There's skiing in the winter for those who like to hit the slopes and plenty of sunny beaches in the summer. Living in Bucharest provides the perfect balance of urban life coupled with easy access to an incredibly beautiful countryside. The people are extremely friendly, and the food is delicious with it's unique amalgamation of Turkish and Balkan flavours. Try the warming stews and stuffed cabbage leaves!
---
The Paperwork
As part of the Schengen agreement, EU or EEA nationals, and Swiss nationals, are able to move to Romania very easily. If you're a third-country national you need to acquire a D type visa. Romania has a universal healthcare system but it is quite poor, so if you can afford it, it's recommended that you register with private insurance or make sure that this is part of your relocation deal with your new tech employer. With private healthcare, you'll find much more qualified professionals who are English speaking.  
---
Banking
If you're planning on relocating to Bucharest for work, you'll need to open a local bank account. Make an appointment with the bank that you want to open an account with and bring a copy of your passport, proof of address, employment and tax. Additionally, you can also choose whether you want to open an account with Euros, Romanian Leu, or both.
---
Cost of Living
The cost of living in Bucharest is relatively low in comparison to the rest of the EU, with an inexpensive restaurant meal costing around 30 lei (6.25 Euros), a beer costing around 8 lei (1.67 Euros) and a loaf of bread costing around 2.77 lei (50 Euro cents). Accommodation will usually be the most expensive part about living in Bucharest, but even then, by sacrificing a central location, you can find some very nice and relatively cheap apartments in the suburbs.
---
Accommodation
Dealing with Romanian landlords can be challenging, so most employers arrange accommodation for their expat employees. If you're taking on the task on your own, be sure to have a Romanian speaker help you in the process to make sure your contract is sound. Bucharest Homes and Regatta are both rental websites specifically for expats, so checking those will help you get to know the market. You'll find an average single bedroom apartment in the city will cost around 400 Euro a month.
---
Working in Bucharest
Bucharest is an up-and-coming tech destination, with an Eastern European style education system focused on sciences and the perfect atmosphere to incubate start-ups. This has been supported by a variety of investment funds, helping the industry to become a destination for a lot of IT outsourcing. For this reason, the industry attracts a lot of foreign investment and has a large expat community.
---
Transportation
Bucharest has a comprehensive public transport system, with buses, a metro system, trams, trolleybuses. Additionally, taxis are relatively cheap, but make sure to look out for fake taxi companies! You can get a card which works across all public transport which can be recharged with cash. Alternatively, you can also buy a monthly metro pass for 50 lei (10 Euros).
---
Culture
Due to Romania's diverse history, you'll find an incredible array of architecture in Bucharest, from old-school orthodox churches to communist monuments. Be sure to check out the Lipscani district, which has a vast array of trendy coffee shops and bars. If you're looking for a green oasis amongst the hustle and bustle of the city, visit the Cismigiu Gardens, with a beautiful lake and park. There is plenty to explore outside of the city as well. Romania is home to the Transylvania region, an area steeped in stories and mystery, with the Bran Castle said to be home to Dracula.
---
Looking for a tech job in Bucharest? 
Tallocate can help you find employers who hire without bias. 
---